Heat waves on land, cold waves in the water, changes to the race plan, and intense competition including some of the fastest triathletes in the United States – this year's USA Triathlon Age Group Nationals had it all! The Olympic course was largely the same as last year, but the Sprint course changed dramatically. The biggest difference for me was signing up for both the Sprint and Olympic distances, a challenge I felt well-prepared for after the American Triple-T earlier this summer!
Friday
Packet Pick-up & Expo
The race was incredibly well-run once again. Considering that both races had almost 2,000 entries each, that is no small feat! I arrived on Friday night for packet pick-up and to watch the open water swim competition. Packet pick-up was a breeze, but while I was standing in line I heard that the open water swim was now wetsuit-mandatory due to the cold water temperature (58°F). Everyone was unsure what the temperature would be on Saturday. If the water temperature was still under 60°F in the morning, no one would be allowed to compete without a wetsuit!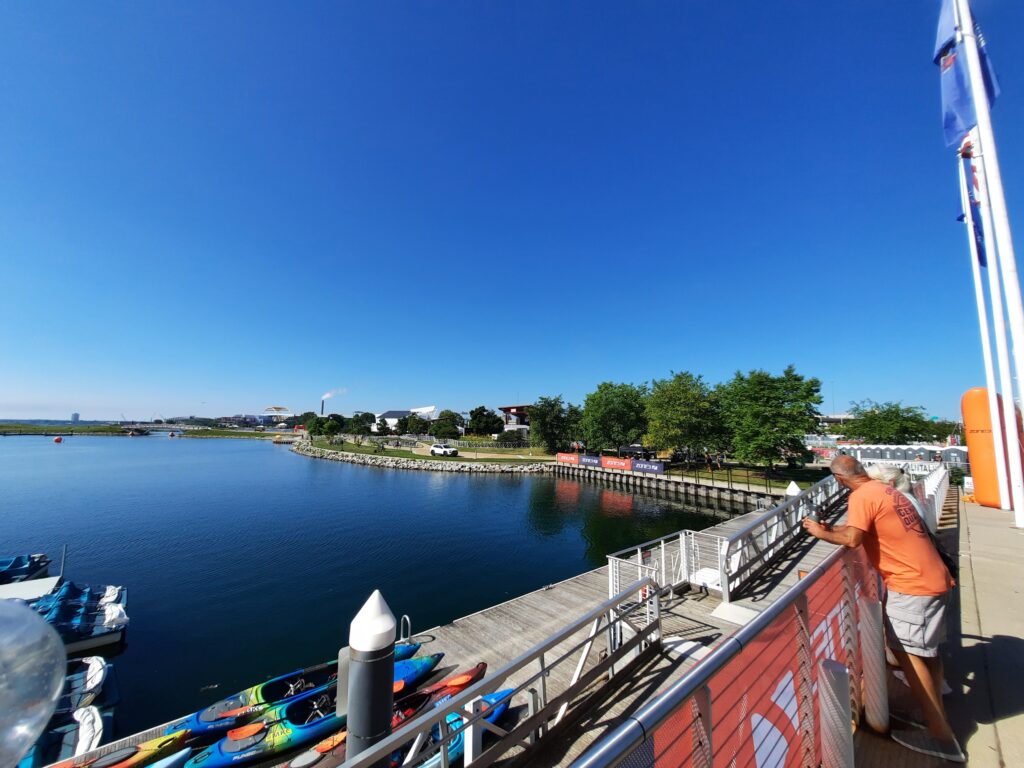 Wetsuit Adventures & Race Preparations
After the announcement, there was a run on wetsuits at the expo and local stores. After much searching, I finally found one 30 minutes away at the PlayTri store in Delafield, WI. I'd like to give a shout out to the employees there. They gave me a crash course in wetsuits and managed to find the last one in the store that would fit me!
With my packet and rented wetsuit in hand, I headed back to the hotel to pack my transition gear and practice getting in and out of my freshly acquired full-sleeve BlueSeventy Reaction. This would be my first time ever wearing a wetsuit, and I was a bit nervous about it. So much for "nothing new on race day"! After one final carb-loading meal, I headed to bed. After a year of training, I was finally on the cusp of my season's A race.
Saturday – Olympic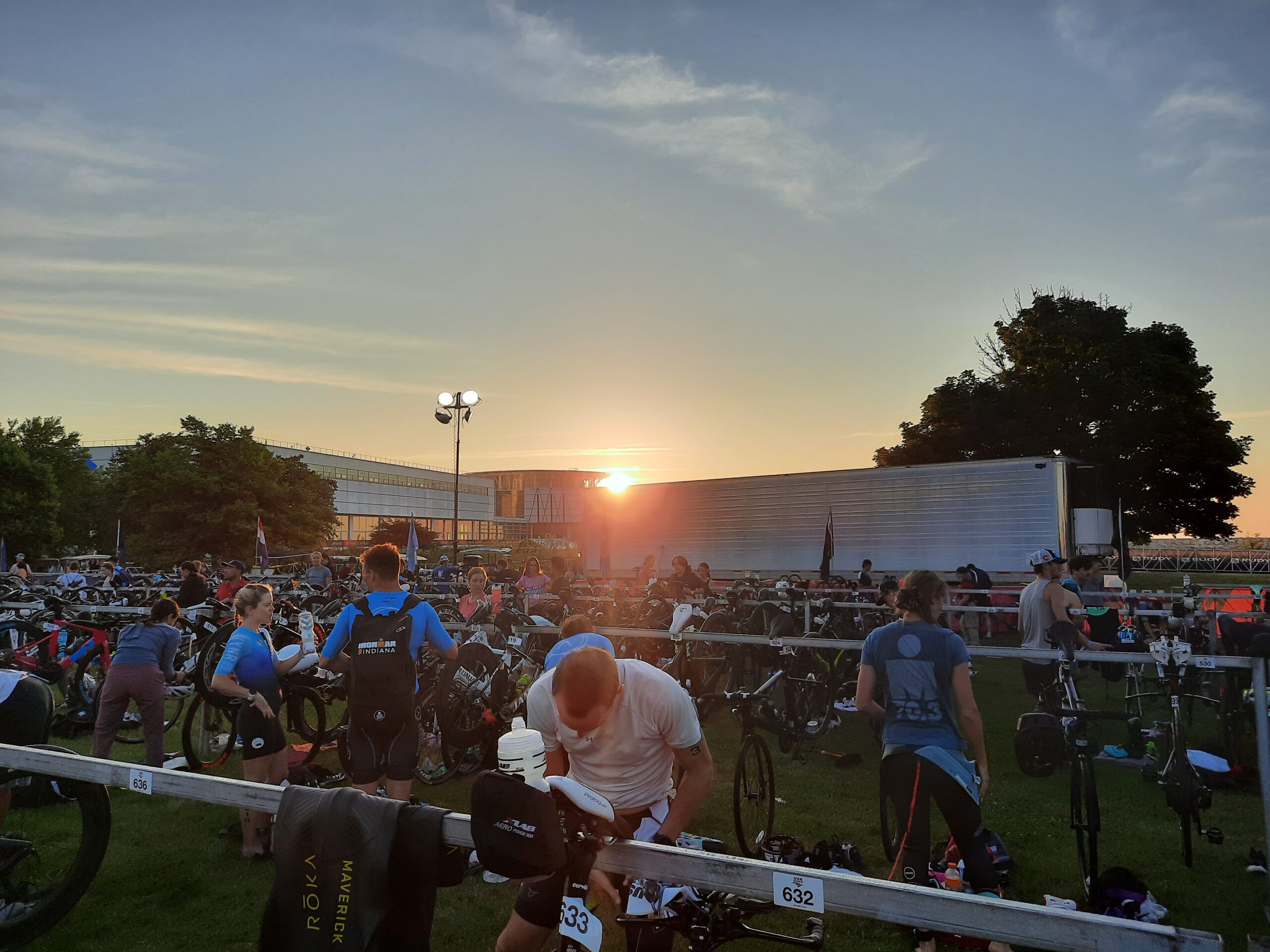 The water was thankfully a little bit warmer in the morning, but I still elected to wear the wetsuit. The transition area was orderly considering that nearly 2,000 people were setting up bikes, shoes, and nutrition! Men 30-34 was the third wave, so we got off to an early start at 7:12am.
Swim
The swim course was the same as last year's Olympic and similar to the Sprint course I did last year. We started as a wave from the dock, then swam out under the bridge. The course hooks back around the bay, following along the shore where all the spectators are watching. After that it's up the stairs and off to T1!
I was kicked in the nose during the first 500 yards and had to fix my goggles. Many triathletes are nervous about swimming with "the pack" due to the potential for contact, but this sort of thing is actually uncommon. I recovered quickly and managed to beat my goal pace on this swim!
I've never been a big fan of wetsuits, and given my swimming background I honestly never felt like I needed one. After wearing one in this race I can say that they make a big difference. The water was a tiny bit warmer but still very cold by most standards, so the thermal properties of the suit helped a lot there. Never underestimate the buoyancy factor! While most strong swimmers don't really need more buoyancy to balance their stroke, it can still help save some leg strength for the bike and run.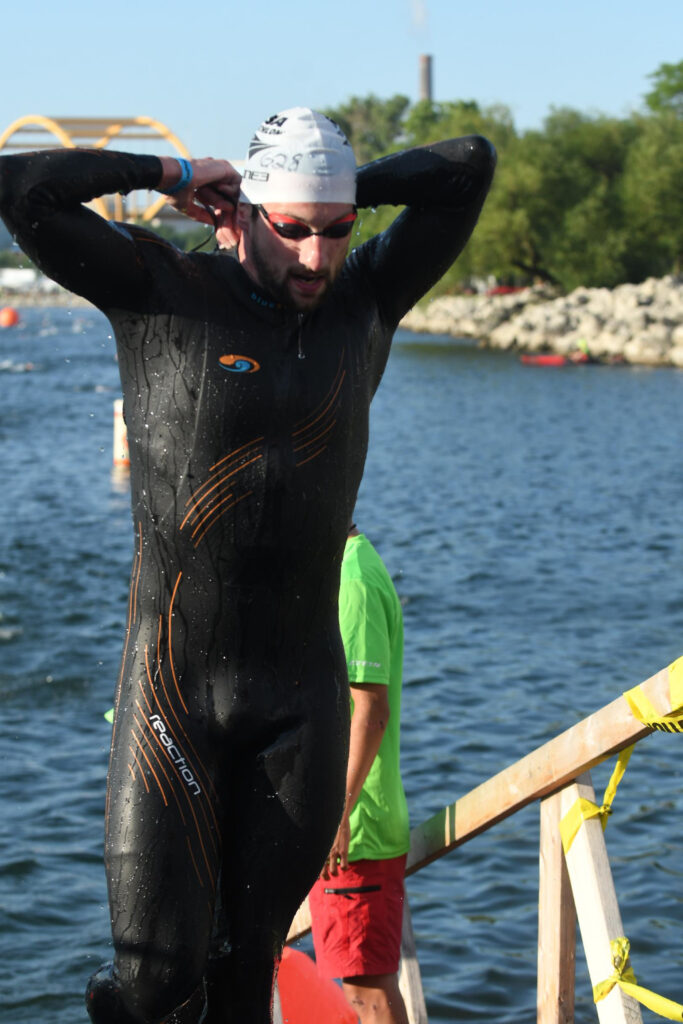 Bike
The bike course had a few small changes from last year. It was cool to go through a few neighborhoods off the Lincoln Highway, and some families came out to cheer for us.
There were a few rough patches of road, especially on the highway. I thought the hills were very challenging last year; this year they felt much easier by comparison. Having a more aerodynamic triathlon/TT bike also made a big difference for me, especially on the descents and the flats.
The bike was a big focus in my training this year. It's the longest leg of any triathlon, and there's always room for improvement. I managed an average speed of 21.2mph, which was a full 1.5mph faster than last year's Sprint bike leg!
USA Triathlon Age Group Nationals is always a non-draft race, but it's still important to pay attention to the other riders around you. Other cyclists buzzed pretty close to me more than once. There was also an incident where I was passed but the rider slowed down significantly as soon as he was in front of me. Both of these types of situations can lead to accidents for less-experienced riders! Always maintain awareness of your surroundings, especially in the aero position.
Run
The run was hot. The heat index was in the 90s, but the breeze off the lake helped a bit. As the heat settled in after T2 the going got tough – I was running through the aid stations pouring water on my head!
This relatively uncomplicated course doesn't have very much elevation change and only a few turns. Once you hit the turn-around at 3.9 miles it's a straight shot all the way to the finish line.
One of the things I love about triathlon is the people who compete in these races. I was passed early on by a fellow racer, but as he went by he encouraged me. We passed each other back and forth over the next 5 miles, cheering and challenging each other. It was a photo finish when we got to the end! I've honestly never seen athletes support each other like that in any other sport. It's absolutely a race, and nobody wants to lose, but at the same time there's a camaraderie at these events that I've never experienced anywhere else.
Results
| Category | Place |
| --- | --- |
| Division (M30-34) | 66 |
| Gender | 356 |
| Overall | 436 |
Sunday – Sprint
A fairly intense storm system was expected to blow through Milwaukee at some point during the weekend. By Saturday night it was becoming apparent that it would hit sooner rather than later. Rumor said the Sprint event might be canceled. Competition is 90% mental. Being unsure if the race will even happen can be especially disruptive to an athlete! When there's this sort of uncertainty around an event, sometimes the best thing to do is simply ignore it. I prepared my bag as usual and awoke Sunday morning fully prepared to race the planned Sprint distance.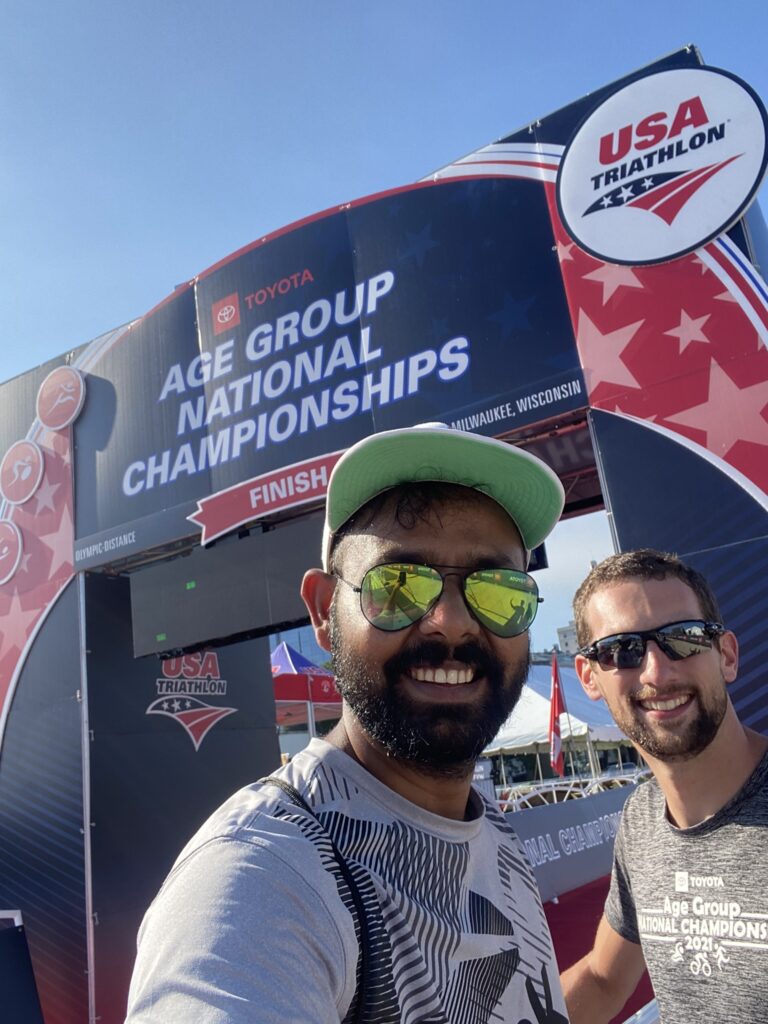 A relatively serious thunderstorm hit overnight. I was notified that the race course would be shortened to a Super-Sprint distance while walking to the venue. When I arrived at transition, I found that the storm had somehow knocked the chain off of my chain ring! This is a perfect example why it's important to always check over your bike on race morning, especially if you have to leave it in the transition area overnight as required at many major events.
Swim
They shortened the swim course as much as possible, but it was still a decent swim because it had to go under the bridge and exit at the same stairs. The start was also changed from a wave start (everyone at once) to more of an Ironman-style start where 3-4 athletes jump in every 10 seconds.
The water was slightly warmer, but I decided to wear the wetsuit again anyway. I really learned to love them during this event. I'll be getting one for myself next season!
This one was short and sweet. I got out of the wetsuit even faster this time in T1, and it was on to the bike!
Bike
The changes to the bike course were straightforward. It became a simple out-and-back, removing the portion on the highway. Taking out the highway part of the course also removed most of the hills, except for one right in the middle where we turned around. I hit some really great speeds on this ride, and I was very happy with the average!
Run
The run was only 2.5k, making for an all-out sprint. I actually had a bit of trouble getting my heart rate up on this one, which I think was more due to the relatively cool temperatures than anything.
The chute and finish line were fun as always, even with the shortened race!
Results
| Category | Place |
| --- | --- |
| Division (M30-34) | 30 |
| Gender | 224 |
| Overall | 282 |
Conclusion
USA Triathlon's Age Group Nationals was once again a highlight of the year for me, even with the change of race format on day two. The course was fast and the competition was awesome. My parents even made it in time to see the Sprint race after an epic vacation in Alaska! They are always there to support me in my races, even when it means driving through the night from O'Hare after two weeks of travel through a remote wilderness. I couldn't do this without them!
They haven't announced the race site for 2023 yet, but I hope to be able to participate again next year. Check out the photo galleries (Day 1, Day 2, Day 3) for more pictures and videos from the race!